Advanced 3D Lidar Detects Incoming Hull and Optimizes Mooring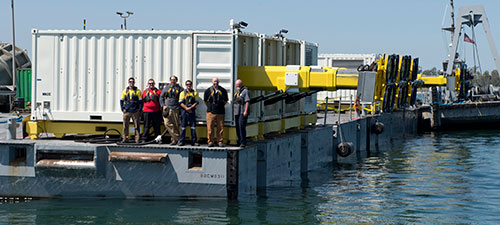 Our customers at Cavotec USA and Oceaneering needed a system that would have full control of their MooreMaster System's massive robotic arms to manage positioning and force for ship to ship mooring in the marine environment. Using advanced 3D Lidar sensing technology and the MSx Processing Engine, MechaSpin's team of engineers developed, tested and delivered a solution that detects the features of the incoming hull and autonomously indicates the optimal attachment point successful mooring.
Maritime Lidar Applications & Benefits:
Increase Survey Efficiencies
Total Asset and Environment Awareness
Measure in 3D, Manage 4D
Reduce Operational Costs
Environmental Surverys
Marine Habit Surveys
Leak Detection
Asset Integrity
Personal Safety

Maritime Vehicle Dynamics
MechaSpin has developed a system that can detect and track a maritime vessel in motion due to wave dynamics. The system outputs the 3 degrees of freedom position, surge, sway and heave orientation and 3 degrees of freedom velocity of the maritime vessel in real-time.
In conjunction with CIS Marine Division, MechaSpin has developed the DraftEye product. DraftEye is a real-time solution to calculate the draft of a maritime vessel during loading and unloading operations. This replaces the need for traditional draft surveys which can be dangerous and labor intensive. Real-time output from the system enables operators to load and unload to specific draft levels (with 5cm accuracy) and verify material mass (tonnage) to within 1% accuracy.
MechaSpin has developed technologies that can be used to detect and alert operators for Man Overboard events. Multiple sensor fusion and automated detection and classification of object enables rapid and accurate response to any man overboard event.
Ready to Reduce Operational Costs?