GREAT HARDWARE DESERVES
GREAT SOFTWARE
Discover How MechaSpin Uses Low-Cost 3D Sensors to Solve Complex Problems
Our 3D Sensor Solutions Make your Products
Safer and More Efficient.
Gain a Competitive Advantage!
Mechaspin's extensive experience in software engineering and systems integration enables us to develop solutions to bring these sensors to life. We integrate new types of low-cost 3D sensors (including lidar), and artificial intelligence into new products so our customers can bring breakthrough capabilities and competitive advantages to market by making their products safer and more collaborative with precision control.
Leveraging our relationships with many low-cost 3D Lidar sensor manufacturers, MechaSpin is uniquely positioned to inform our customers about the best technologies for their application. We help companies figure out the challenging questions (what, where, how) about integrating 3D sensors into their products. As a one stop solution provider, we can design, implement and deploy your custom solution.
Whether you are looking to explore a new idea or execute an existing one, MechaSpin can ensure the deployment of a custom solution for the following industries: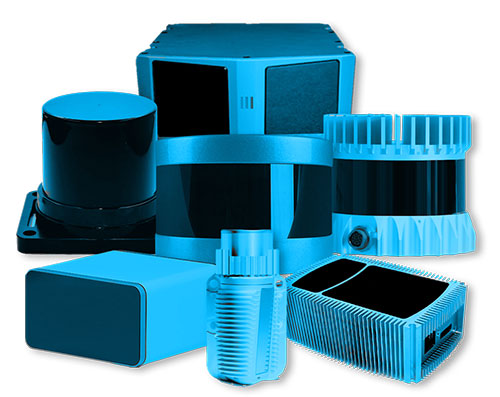 Mechaspin is proud to offer the MSx technology to a wide variety of industries. The flexibility of MSx Processing Engine and MSx Sim allow us to quickly field solutions for complex industrial problems. We can simulate dozens of sensor solutions for any application to determine the optimal sensor hardware and layout in order to meet your needs.
Sensor Agnostic Real-Time Software
MechaSpin's MXs Processing Engine enables real-time solutions to challenging machine perception, classification and object recognition problems. The MSx Processing Engine allows MechaSpin to quickly field solutions for complex industrial perception problems. It is built to be sensor agnostic and works with data from a large variety of sensors and vendors.
Designed and optimized to run on the latest GPU-accelerated hardware from Nvidia, it offers a robust and cost effective solution to a multitude of applications and industries.
Sensor Solutions to Optimize Sensor Hardware
Understanding Lidar data is hard. What sensor is best for my applications? How many sensor do I need? Where do I mount sensors?
These questions make the barrier to entry for using Lidar sensors difficult. MechaSpin built MSx Sim to answer these questions and more. Using its innovative simulation engine, MechaSpin can simulate dozens of sensor solutions for any application to determine the optimal sensor hardware and layout to meet any customer's needs.
We've made great software for the following companies
MechaSpin is proud to serve our customers in a mulitude of industries.
Lidar solutions for Port & Terminal applications such as container inspection, container handling, automation and vehicle & personnel safey.
Lidar solutions for Maritime applications such as vessel tracking, draft caluclations, man overboard detection and personnel safety.
Lidar solutions for Agriculture applications such as precision navigation, obstacle detection, vehicle locatlization and automation.
Lidar solutions for Material Handling applications such as collision avoidance, personnel safety, people tracking, automation and object detection and classification.
Lidar solutions for Transportation applications such as vehicle detection, vehicle classification, ground loop elimination and wheel counting.
Lidar solutions for Security applications such as people tracking, object classification, door controls, intrustion alerting and people counting.
Ready to Move your Hardware Forward?