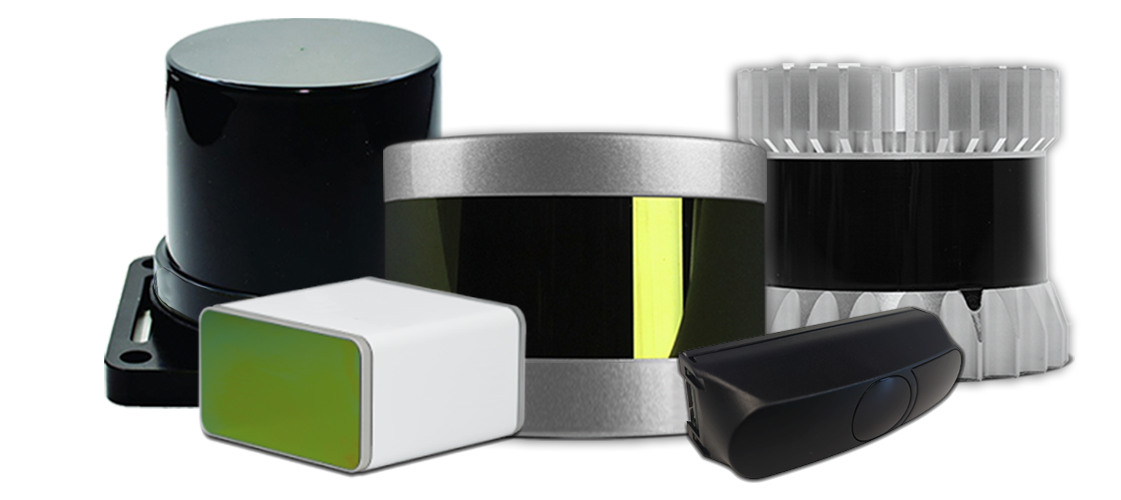 Lidar Systems Integrators

Using Lidar to Solve Complex Industrial Problems
Mechaspin's extensive experience in software engineering and systems integration enables it's team to develop the algorithms required to bring lidar sensors to life. Whether you are looking to automate your facility, add collision avoidance to vehicles & machinery, inspect containers and packages or develop safety solutions; MechaSpin can ensure the installation and successful deployment of a custom solution that will meet your needs.
MechaSpin is an energetic, focused and dedicated team of engineers who share a passion for solving complex problems using cutting-edge technologies. The team at MechaSpin has been working in the field of automation, robotics and computer control of machinery for well over a decade. Starting their careers in today's cutting edge fields of Unmanned Systems, Robotics, Automation and Self-Driving Cars, our team has developed the skills necessary to bring the sensors, algorithms and technologies from these fields to bear on your problem.
At MechaSpin we think that Great Hardware Deserves Great Software and we've demonstrated time and time again that we're the team to deliver that Software to our customers.
Software Engineering, Development and Testing
---
C/C++
Boost C++
Python
Java
Matlab
Visual C
C# / .NET / WPF
RS Logix 5000
PLC Ladder Logic
PLC Structured Text
LabVIEW / LabVIEW RT / LabVIEW FPGA
VHDL
Lua
Assembly
Qt
Windows PowerShell
Robotic Operating System (ROS)
MIL-STD-882E Standard Practice System Safety

 

Gazebo Sim
Windows API
Linux API
QNX Operating System
Real-Time Linux
XML
JSON / JSON-RPC
Service Oriented Architectures & Design
Model-Driven Development
UML Modeling
SQL Databases, Queries & Syntax
Geospatial, Geotemporal and Moving-Object Databases
Geospatial Data Modeling & Manipulation
Serial (RS232/RS485) Communication
Ethernet Communication

Signal Modulation / Demodulation
UDP / TCP Clients & Servers
OverlayFS
EtherNet/IP
DeviceNet
Modbus TCP
iOS Development
Android Development
Ubuntu, OpenWRT, CentOS, RedHat, Mint
Windows XP/7/8/10
Agile Development Techniques
Bug Issue / Tracking
Continuous Integration Techniques
Software Unit Testing
Git / Mercurial / SVN Repositories
Eclipse IDE
Eclipse Plugin Development
Controls & Algorithm Development
---
Forward & Inverse
Kinematics
Robotic Manipulation
Path Planning
World Modeling
Physics / Dynamics Simulation
Sensor Fusion
Localization
Kalman Filtering
State Space Controls
PID Controls
Non-linear Controls

Geometric / Kinematic Modeling
Search Algorithms
Receding Horizon Control
Object Identification / Localization
Tracking Algorithms
Obstacle Detection / Avoidance
Real-time Systems & Controls
Vehicle Dynamics & Modeling

Signals Processing
Hydraulic System Control & Monitoring
Hydraulic Pump Control & Monitoring
Vacuum Pump Control & Monitoring
Mechanical System Health Monitoring
Electrical System Health Monitoring
Motion Planning
Hardware, Electrical and Communication Interfaces
---
8/16/32 bit Microcontrollers
X86 / X64 / ARM processors
RasberryPi, BeagleBoard, Gumstix SBCs
NI CompactRIO
NI Single-Board RIO
I2C / SPI
Parallel Input
Serial (RS232/RS485) & USB
Digital I/O

Analog I/O Feedback (4-20 mA, +/- 10VDC)
Allen-Bradley ControlLogix / CompactLogix PLCs
Wago I/O System
Motor Controllers
Differential and Quadrature Encoders
Absolute Encoders
IEEE 802.11 a/b/g/n/ac Radios
IEEE 802.11 WEP / WPA / WPA2 Encryption

Military Radios
AES256 Encryption
FIPS 140-2 Encryption
Balluff IO-Link
Iridium Satellite Communications
Cellular (2G, 3G, 4G, LTE, GPRS & GSM) Communications
SMS and MMS Messaging & Broadcasting
Bluetooth Communications
Sensors, Actuators & Perception
---
2D & 3D LiDAR
Stereo Vision
2D & 3D Image Processing
Computer Vision Algorithms
3D Depth Sensors (Time of flight and Structured Light)
Proximity Sensors
Ultrasonic Distance Measurement

GPS
Inertial Measurement Units (IMU)
Inertial Navigation Systems (INS)
Contact / Force / Load Sensing
Rotary / Linear Encoders
Sensor Fusion Algorithms

Simultaneous Localization and Mapping (SLAM)
Linear Actuators
Rotary Actuators
Hydraulic Valves & Solenoids
Hydraulic Pumps & Manifolds
Pressure Transducers
What They're Saying About Us.
A A very talented group with remarkable expertise in lidar, computer vision and software design. Very capable of leading companies towards success.
- IAM Robotics
---
T The team have successfully completed the design, development, integration, and testing of both the scanning and tracking subsystem and overall software architecture.
- Program Manager, Cavotec USA
---
Ready to see what we can do for you?
A quick conversation or email is the only thing necessary to move your hardware forward.